DKG-255 DIGITAL SPEED CONTROLLER
20.05.2020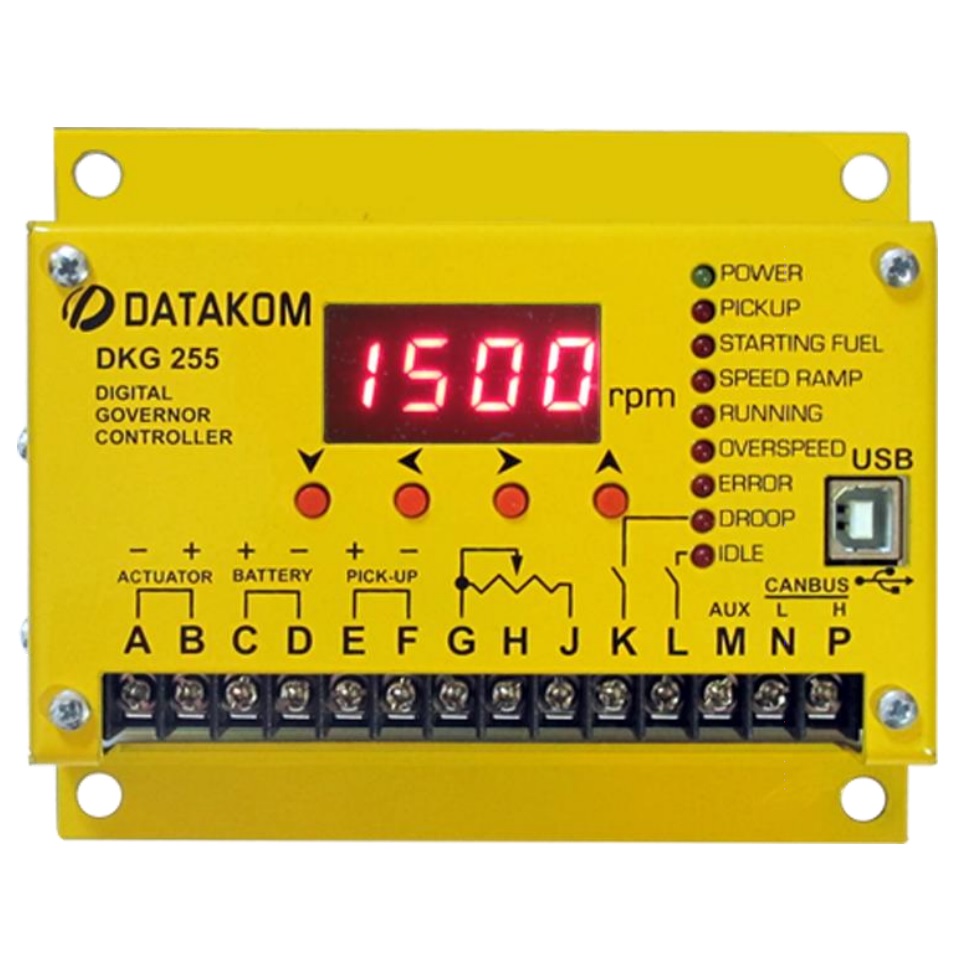 DKG-255 DIGITAL SPEED CONTROLLER
The DKG-255 is a microprocessor controlled digital speed control unit designed to control the engine speed with fast and accurate response to load changes.
The DKG-255 connects to a forward acting proportional electric actuator and a magnetic speed sensor. It is also capable of picking-up the speed signal from the alternator voltage, removing the need for a MPU unit. It controls a wide variety of engines in constant speed (isochronous) or droop modes.
The DKG-255 offers programmable parameters to adjust IDLE and RATED speed settings. The IDLE speed mode is selected with an external switch.
The automatic PID speed regulation function controls the dynamic performance of the unit and allows stable operation with most engine types.
The unit is able to adjust automatically its PID settings, simplifying the programming process and improving the dynamic response quality.
An external speed trim potentiometer may be connected to the unit to adjust the engine speed from a remote location.
The auxiliary speed adjustment input allows voltage controlled speed trimming for synchronizing and load sharing applications.
If an adequate speed signal is not supplied to the unit, the speed signal monitoring circuit will detect this and shut-off the actuator output in order to prevent any damage.
The unit is capable to deliver actuator currents as high as 10 Amps. However, the output current limiting circuit will protect the unit against output short circuit or overload.
Protection against reverse battery connection and transient voltages are provided.
FEATURES:
Automatic PID Setup functionality
Microprocessor controlled
12 and 24V operation
Capable of governing various engines
Forward acting actuator output
Fast and accurate response
Starting fuel adjustment
Speed ramp adjustment
Overspeed alarm output
Adjustable rated and idle speeds
Isochronous and droop operation
Gain and stability adjustments
External speed adjustment capability
Synchronizing and load sharing input
Switchmode output circuit
10 Amps continuous current output
Speed sensor failure detection
Battery reverse voltage protection
Output short circuit protection
Rugged design
Enamel protected electronic circuit
Small dimensions (130x110x27mm)
Low cost
TECHNICAL SPECIFICATIONS:
DC Supply Range: 10.0 to 33.0 V-DC
Current consumption: 100mA max (actuator not connected)
Speed input range: 40 Hz to 8000 Hz.
Speed signal amplitude: 1.5 to 300 VAC-RMS
Speed signal input impedance: 2 M- ohms
External speed trim:
5 K-ohms trimpot between terminals G and J
External speed trim range: ± 6% min @3000Hz
Auxiliary input (terminal M):
Input voltage range: 0 to 10VDC
Input impedance: 150 k-ohms.
Adjustment range: ±25% min @3000 Hz
Steady state speed accuracy: ±0.2 %
Droop adjustment range: 1 to 5% minimum
Actuator output: 10 Amps continuous max
Operating temp.: -20°C (-4°F) to 70 °C (158°F).
Storage temp.: -30°C (-22°F) to 80 °C (176°F).
Maximum humidity: 95% non-condensing.
Dimensions: 130 x 110 x 27 mm (WxHxD)
Weight: 350 g (approx.)
Mounting: any position, vertical preferred